Buy a Ring Game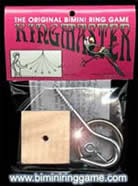 The favorite game played throughout the Caribbean Islands and nowŁ WORLDWIDE! Everyone, no matter what age can enjoy the Bimini Ring Game!
This is our most popular model, the Bimini Ring Game Ringmaster portable which sets up anywhere. This is all you need for your family and friends to have hours of fun. Once set up you cannot walk by without swinging a few rings. And, just watch all the happy faces when they get a ringer. Included inside is a brief history of the game, how to play and instructions for setup. You will quickly develop and perfect your skills every time you play. In just a short time you will surprise yourself at how accurate you become with the ring. Soon, all of your friends will be calling you, the RINGMASTER!!
OUR PHILOSOPHY: In a world swelling with automated toys and elaborate computer games, come celebrate SIMPLICITY with Bimini Ring Game...No Batteries required!
The Ring Game easily sets up in your home, on your deck, or even in the office break room. The list is endless and so are the years of good old fashion fun you will enjoy with your game.
Sets up anywhere!
Be sure to get a few extra games for your friends. They will be begging you for one!